Job and Internship Information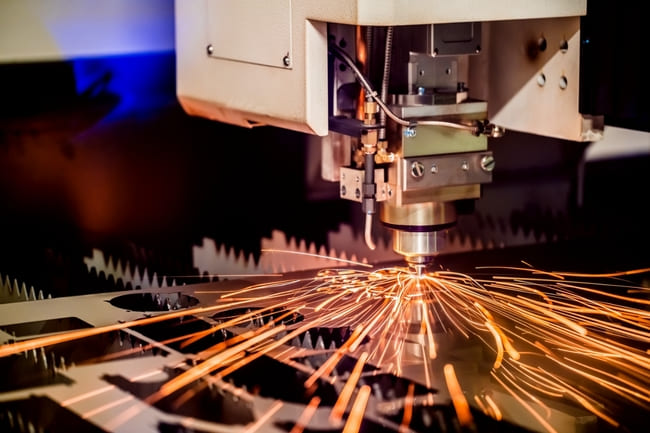 OUR COMPANY IS
The more you know Iizuka, the more interesting it is!
Iizuka started out as repair plant for oil refinery pumps and valves. This year marks the 69th anniversary of the company's foundation.
Today, the company has expanded its field of activities into many fields and manufactures parts that are indispensable for daily life.
As a new challenge, advanced laser processing and bending machines have been introduced, and the delicate programming skills of women are expanding the scope of their activities.
Why not enter our company, which continues to challenge itself based on the company motto of "Enthusiasm", Challenge, and Service?
WORKING ENVIRONMENT
Working environment
A corporate culture that is never satisfied with the status quo and is always up for a challenge.
We are a company that creates a culture, a spirit of service, and boldly takes on the challenge of new technologies.
01

Establishment of the company
1953
06

Average years of service
07

Monthly average overtime hours
11 hours
(Varies depending on department and season)
08

Number of days off per year
110 days
09

Average number of days off per year
11.5 days
*As of April 1, 2022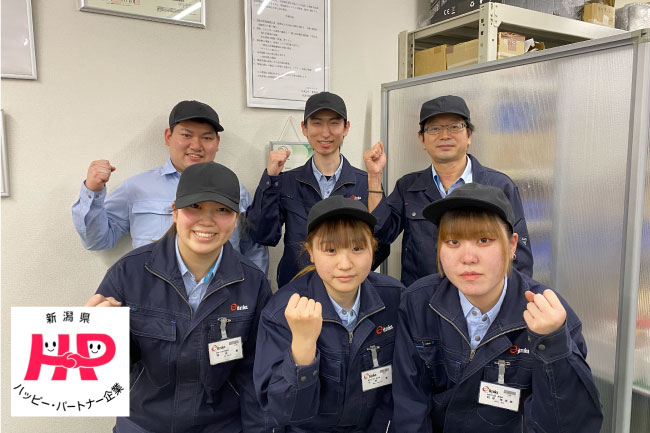 Creating a work environment where both men and women can work comfortably
Iizuka strive to creating a work environment where both men and women can work comfortably and balance work and family life.
We also provide maternity leave before and after childbirth, maternity leave, and support for returning to work to ensure a safe pregnancy and childbirth, and we support not only women but also men in raising children so that parent can raise their children together and fulfill their private time.
In-house job training ①
In house job training system
Afetr joining the company, new employees receive training in the basic concepts of manufacturing and quality standards, as well as basic training for their new assignment.
Through on-the-job training, we provide daily guidance so that traiunees can gain basic knowledge to engage in manufacturiing, and back them up so that they can reach the standards of the in-house qualification system.
We also provide full support for the acquisition of necessary outside expertise in order to further improve the level of our services as the years go by.
We face to our products on a daily basis as a unit for to develop manufacturing experts.
New employee Training
On the Job Training
Promotion of qualification acquisition
| Qualification acquisition results | Successful candidate |
| --- | --- |
| 1st grade Certified Skilled Professional of Machining (Numerically controlled lathe) | 2 person |
| 2st grade Certified Skilled Professional of Machining (Numerically controlled lathe) | 6 person |
| 1st grade Certified Skilled Professional of Machining (Machining center) | 2 person |
| 2st grade Certified Skilled Professional of Machining (Machining center) | 3 person |
| 2st grade Certified Skilled Professional of Machining (Machine inspection work) | 2 person |
| Non-Destructive Testing Personnel Certification (Penetrant Testing Level 2) | 1 person |
| Non-Destructive Testing Personnel Certification (Penetrant Testing Level 1) | 3 person |
| Vocational training instructors | 2 person |
| Stainless steel welding skill person (TN-V) | 2 person |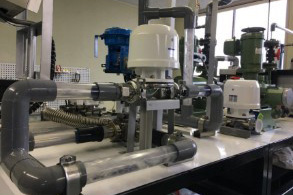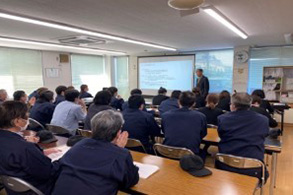 In-house job training ②
Hands-on lab where you can learn about our products
「Want to know how the products I process are actually used」
In response to the exploration of these employees, a training room was created in 2019.
Our philosophy is to engage in manufacturing with an understanding of "products" and "technology", and in the training room, students are able to "assemble and disassemble" actual products. In the training room, students can learn about the true meaning of products, such as why this type of processing is necessasry and why the accuracy of this surface is important.
We also invite ouside lectureswho have actally been involved in the manufacture of our products to give lectures on the difficuluties encoutered during development.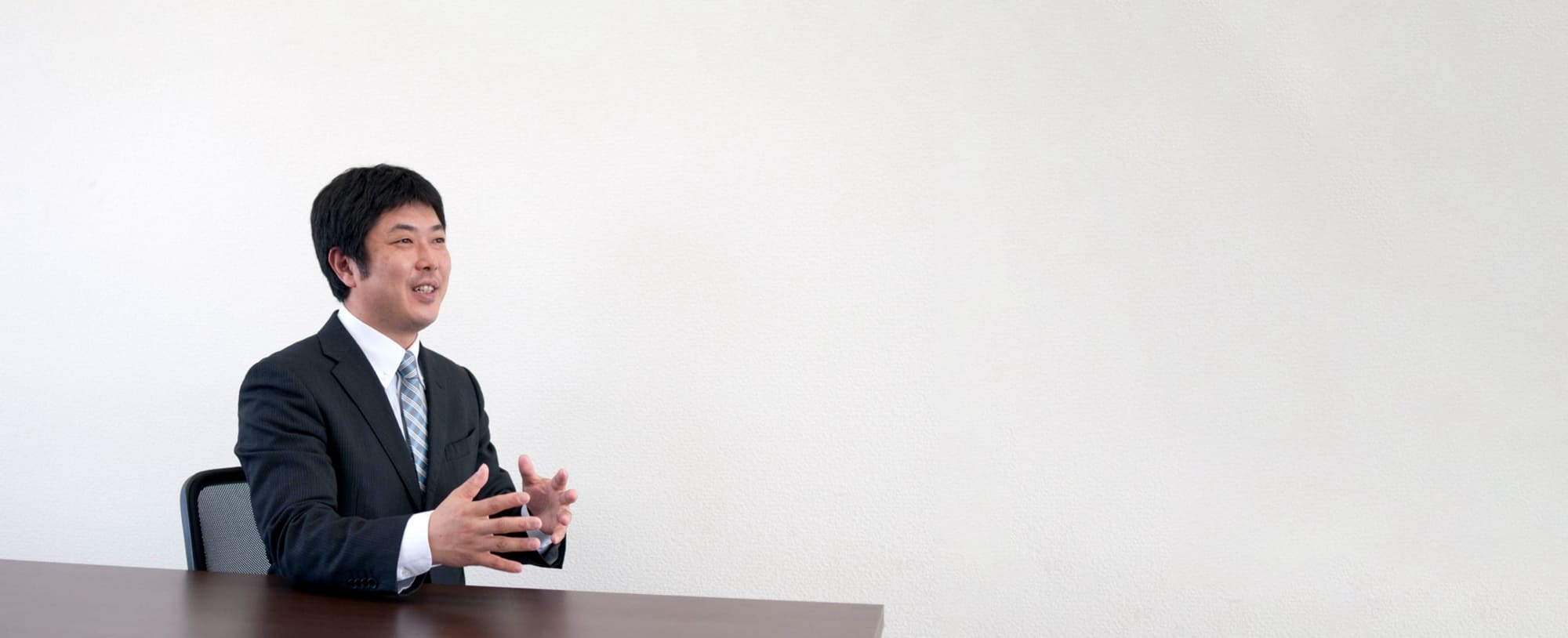 KNOW THE JOB
Learn about the work of seniors
At Iizuka, our employees are proud and passionate about their work, and their work, and they work with vigor and enthusiasm.
01

Yuki Kobayashi /

Karuigwa plant manufacturing group 2

Mid-career hire June 2019
What do you usually do?

Operates multi-tasking machine to process medical devices.
Robot operation allows us to machine at night.
Other main duties include tool change, inspection, and maintenance.

What do you find most rewarding about your job?

I feel a sense of satisfaction and accomplishment when I learn a new process or become able to do machine that I could not too before.
Since we are making products that can affect people's lives, I work with sense of urgency, and it is rewarding to think that the products I have made are helping people.

What do you find attractive about the company since you joined?

We have an environment where we are allowed to take on any challenge regardless of age or experience, and we can work under the guidance of our technically skilled seniors, so we can feel that we can grow as much as we work hard.
We also have products of strict precision, and the environment is attractive because it allows us to learn every day. It is a good place for women to work, and they can do the same machining work as men.

What are your goals for the future?

There are still many things I don't know and can't do, and I have a lot to learn.
I would like to acquire machining knowledge and skills little by little, and continue to take on new challenges.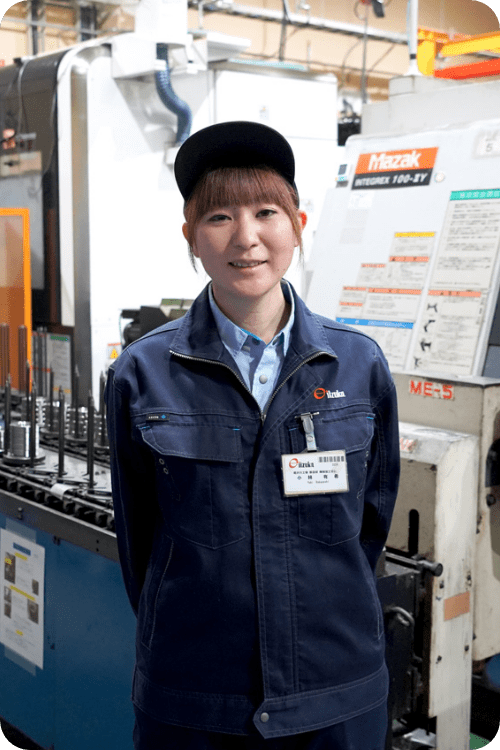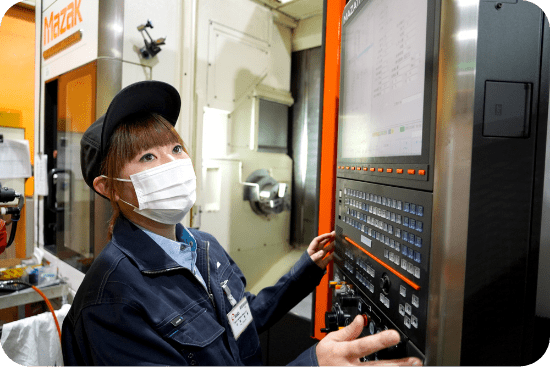 Daily flow
8:00

Going to work
Cleaning around machines, pre-start inspection, dimension check

8:30

Morning meeting

8:35

Tool change and dimensioning, new employee training

10:00

Break

10:05

Dimensioning, new employee training

10:30

Orientation inspection for robot machining at night, training for new employees

11:00

100% inspection

12:00

Lunch

12:50

100% inspection

14:00

Tool change and dimensioning of another machine

16:00

Preparation for robot operation
Dimension check, workpiece loading, robot operation

17:00

Leaving office
02

Senei Sunazuka /

Manager, Quality assurance department

Joined the company in March 2015
What do you usually do ?

In the quality control department, for which I am responsible, I am in charge of finishing, inspection, shipping and packaging, and quality control. Finishing includes deburring and cleaning, while inspection includes dimensional measurement, gauge check, and appearance check,
In quality control, dimensional data is graphed and feedback to the machining department, and advice for improvement is simultaneously sent out to subcontractors in addition to pointing out defects in order to reduce defects.
As a manager, I consider my role to be to implement the PDCA cycle to improve quality. Specifically, I try to create an environment in which the members of the department can work efficiently by considering the causes of defects based on defect data, working on countermeasures, and creating system through discussions with machining and production control departments.

What do you find most rewarding abour your job?

This is where we fell, we are contributing to society. The Karuigawa plant manufactures pump parts mainly for dialysis machines. I am proud that our products are used to protect the lives of people suffering from illnesses. If we inadvertently shipped a defective product ad it had a faulty seal, for example, in the worst-case scenario, the patient's blood could leak out. This should never happen.
We will continue to make further improvements, realizing that preventing the outflow of defects through quality control is beneficial not only to the company and its suppliers, but also to society.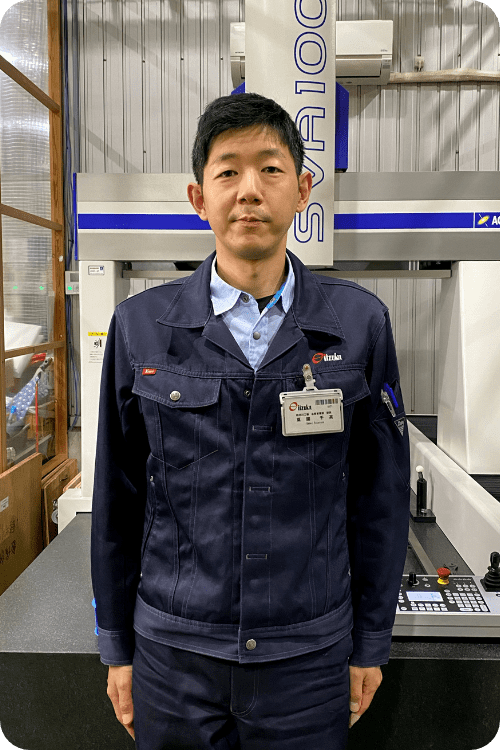 What do you find attractive about the company since you joined?

I used to be a sale in food industry, and I simply find it interesting to see how a lump of metal is processed by a machine, polished to shine, and turned into a product.
The Karuigawa plant excels in 24 hours operation with robots and in the machining of complex screw shapes using 5-axis milling machines, a technology that no other company can imitate.
In addition, we have a culture in which young workers actively take on challenges, and they bring us things like, "We have tried to improve our machining, so please inspect it for us. Even if they are busy with other work, they feel like," okay I'll have taken a look at it for you. The good atmosphere is another attraction of the company.

What are your goals for the future?

Employees who knew the Yasuda plant when it was built (about 20 years ago) say, it's hard to imagine what it looked like back then. I have only been with the company for six and a half years, but even in that short time. The company organization has grown rapidly.
To make the next 20 years an unimaginably great leap forward from now, I want to improve quality, meet deadlines, and become an even more trusted presence for our customers.
Finally, to the new workers and mid-career hires who will become my future colleagues.
I mentioned earlier that I was previously a salesman in the food industry, but in fact, when I joined the company,
I was stating form completely blank slate whom it come to metal machining… Even so, thanks to the guidance of my(younger) boss and the careful instruction of my (younger) seniors, I gradually deepened my understanding and now I am entrusted with work as a support of them.
Please do not give up because you have no experience, but take the first step Ans say, "Let's try it first".
We look forward to meeting with you and your colleagues who can take on new challenges together.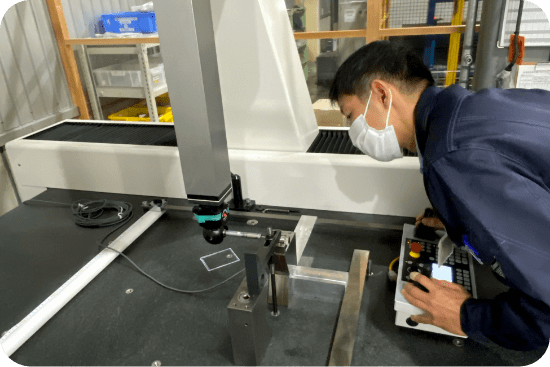 Daily flow
8:00

Pre-work inspection, morning meeting
Approval of inspection forms, preparation & approval of various applications, return e-mails, etc.

9:00

Responding you internal and external inquiries in parallel with inspection work

11:30

Lunch

12:20

Responding you internal and external inquiries in parallel with inspection work (continued)

13:30

Regular web conferencing with overseas subcontractors

14:30

Handling new projects, preparing various reports, etc

15:00

Nondestructive testing

17:00

Preparation inspection forms, handling of objective products, preparation of feedback materials for subcontractors, checking e-mails, filing of various documents, etc.

18:30

Leaving office
RECRUITMENT
2024 New Graduate Recruitment Information
Individual company information session reservation is now being accepted.
Job descriptions and factory tours are scheduled.
Recruited information is posted on the "Niigata Shushoku open Navi" website.
Please register as a member before entering the site.

Check the employment opportunities
INTERNSHIP
Internship information
Iizuka offers hands-on experience in state-of-the-art 6-axis machining
Check out our company description video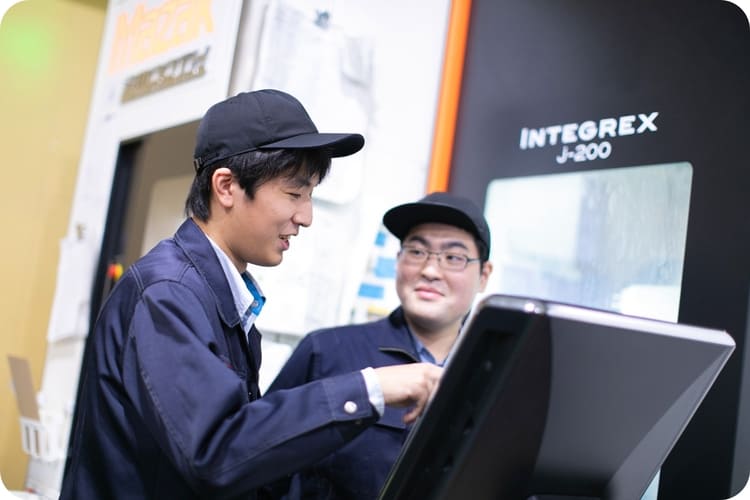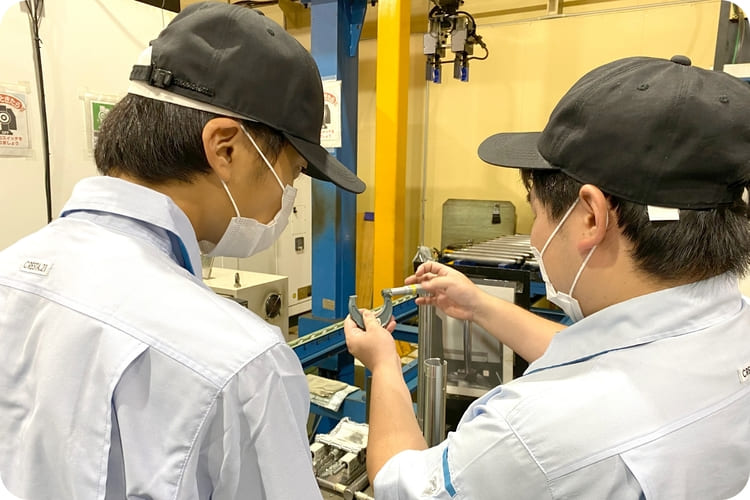 machining Internship
Time
Contents
10:00~12:00
Company presentation and factory Tour
12:00~12:50
Lunch (with senior employees)
12:50~16:00
On site training
(Training in each department)
16:00~
Looking back
12:50~16:00 "On-site practice" will be conducted by interviewing students, and the curriculum will be designed according you the fields you are studying and what you want to know. The student will be divided into "machining", "Production technology", "Quality Control", "Production management", "Accounting", and "General affairs" for the practical training.
【Example of on-site training in machining】
Equipment and product description
Installation and removal of products
Product measurement
Program content can be customized
※Practice hours for production control, accounting and general affairs are from 12:50 to 15:00.
※You do not need to have work clothes and work shoes.
※Lunch will be provided by our company
Program content can be customized.
Scheduled to be held on the 15th of each month. If it is a holiday, it will be set for another day.
In you are interested, please feel free to contact us.
Inquiry about Internship
ADDRESS
3-15-16, Handa, Kashiwazaki-City, Niigata 945-0812 Japan
TEL
+81 (0)257 23 5611
(reception time 8:00 to 17:00)
MAIL
saiyou@e-iizuka.co.jp
STAFF
Iizuka, Takahashi, General affairs dept.