SUPPLY CHAIN
Our supply chain
We offer a full range of production facilities and an integrated production system to meet customer needs, as well as optimal material selection, processing method selection, and shape proposals to reduce product costs and improve productivity.
FLOW 01
Material procurement
We have domestic and overseas steel material networks and can purchase round bars, forgings, aluminum die castings, etc. from Japan and castings from overseas with high quality at low prices.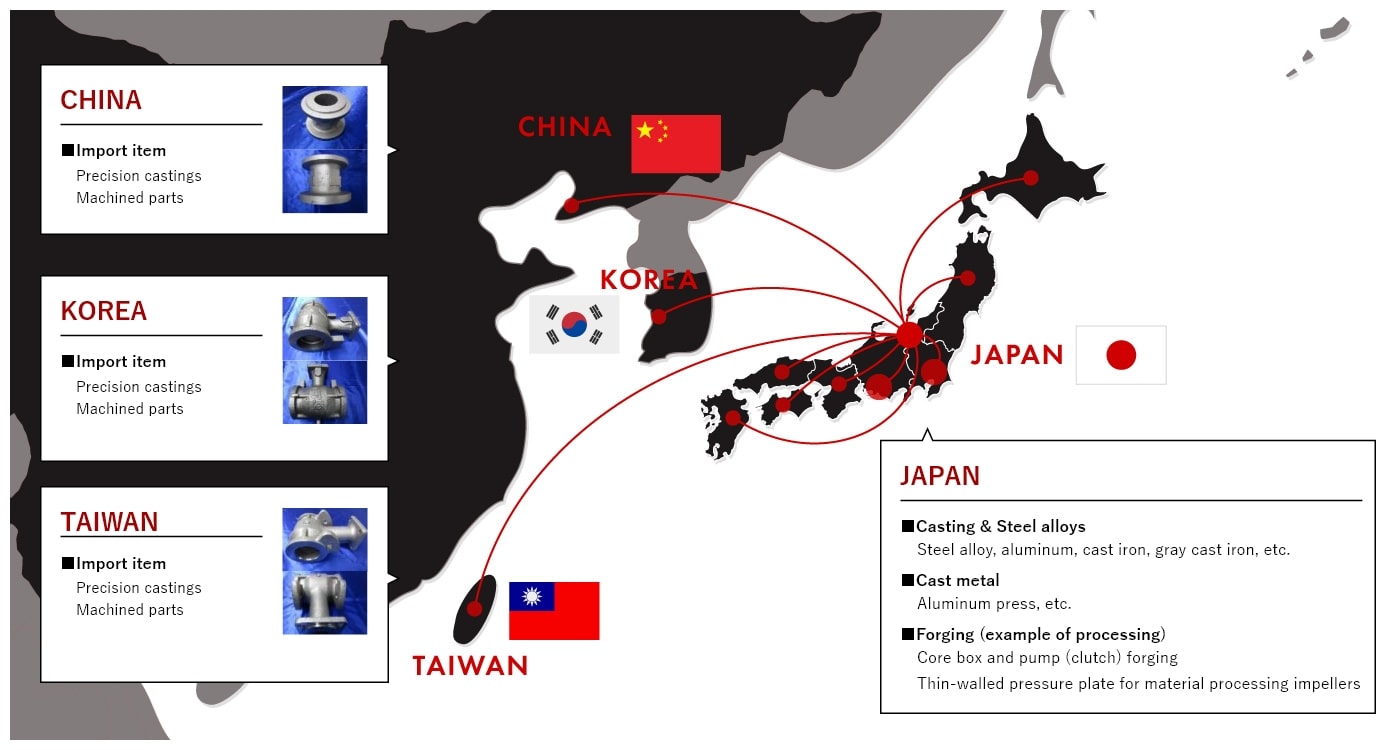 01

Domestic procurement
Casting
【Type of products】
Sand casting, mold casting, precision casting
【Supported materials】
Cast iron, cast steel, aluminum, magnesium, copper
Forging
【Type of products】
Types: Free Forging, Die Stamping Forging, Rolling Forging
【Supported materials】
Materials: Stainless steel, carbon steel, alloy steel, ASTM standards, nonferrous metals such as aluminum, copper and titanium, etc.
Round bars and plates
Stainless steel materials (SUS various)
Precipitation hardening type( 15-5PH,17-4PH)
Heat-resistant alloys (Inconel)
Heat-resistant light alloys (titanium)
Aluminum (A2000 series, A5000 series, A7000 series, etc.)
Copper (pure copper, high copper alloy, brass)
SS, SU, SCM, etc.
02

Overseas suppliers (lost wax and processing)

We import material shapes, general cast steel, lost wax, casting, and other materials from China, Taiwan, and Korea, and provide satisfactory QCD.
Cooperation with overseas partners
Our associated companies in China and Korea welcome orders for machining.
They are the specialists for machining up to three axes and mass production machining and offer excellent cost benefits.
We work closely with our subcontractors to provide support in terms of technology.
Processing points at partner companies
All prototypes are machined in IIZUKA & CO., LTD./Japan (including manufacturing of jigs and gauges)
The jigs, gauges, and machining conditions of IIZUKA & CO., LTD. are brought into the companies overseas for mass production.
For starting up mass production in a local company, an engineer of IIZUKA & CO., LTD. will attend until the production of the first lot.
After the start-up of mass production, a strict inspection follows in IIZUKA & CO., LTD. as well before delivery.
The analyses of material chemical contents are periodically conducted in an industrial experimental station.
The company owns four automatic cutting machines.
They are in constant unmanned operation, creating a series of automated processes such as securing materials, supplying them to the machine tool, and processing them.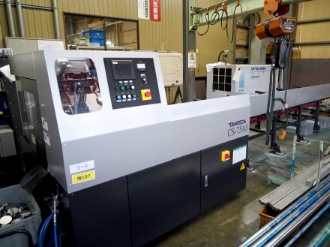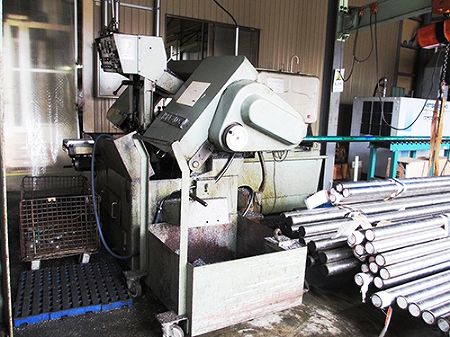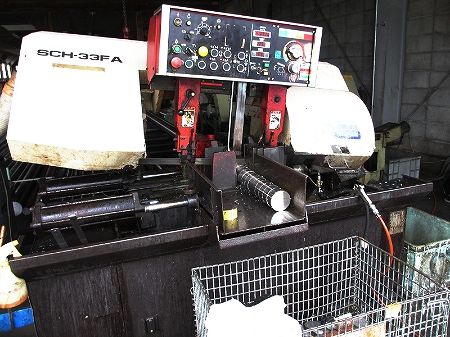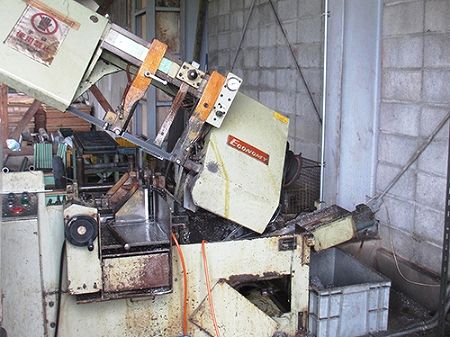 【Material】

SUS material, carbon steel (excluding hardened materials)

【Cutting diameter】

φ10~φ300
Both round bar material and square material can be cut.
Possess a wide variety of machining technologies for difficult-to-machine materials, making full use of general-purpose lathes and 6-axis multitasking machines.
We can handle everything from high-mix low-volume production to mass production.
We have also introduced advanced laser multitasking and bending machines, enabling us to offer a wide range of technologies from internal parts by cutting to external parts by sheet metal processing.
We also have an established reputation for welding technology by skilled welders, and can meet various needs such as cutting + welding, sheet metal processing + welding, etc.
01

Cutting process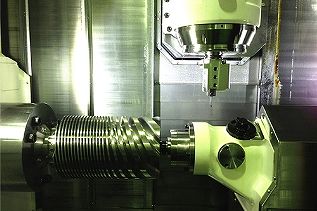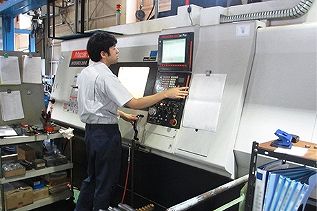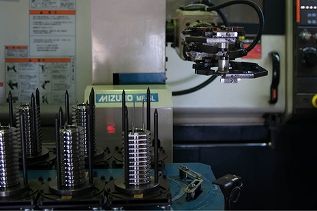 Precision lathe turning and milling in one chucking operation
Highly efficient machining using in-house design jigs and technologies.
The unattended operation using an automated robot feeder shows the machining ability for sophisticated shapes and precision machining.
【Machining Possible Size】

φ8~φ600

【Cutting diameter】

5~2000mm
02

Welding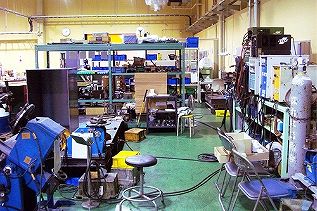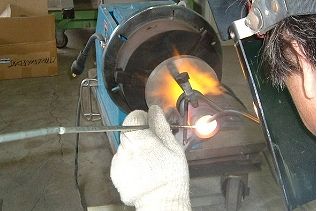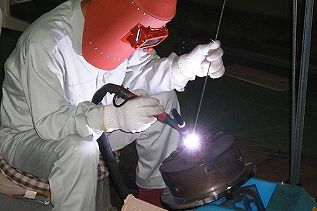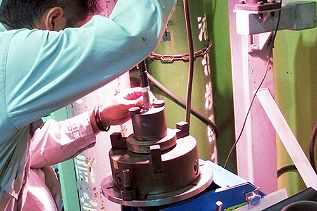 We can handle TIG welding, semi-automatic welding, arc welding, as well as gas welding for satellite welding and special welding such as carbide welding.
Satellite welding can also be used to repair overlay on already worn parts, which is less expensive than manufacturing new parts and can be expected to significantly reduce costs and extend the service life of the parts.

We also offer production in combination with machining to meet a wide range of needs.
【Material】SUS material, Hastelloy, Stellite, Monel, etc.
03

Bending process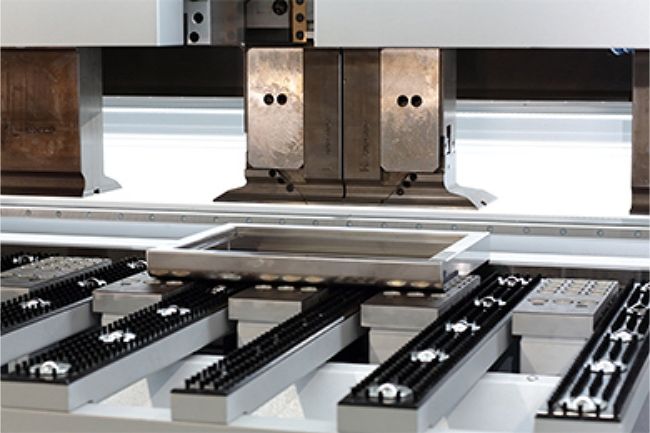 High-precision bending and radius bending without the need for dedicated dies.
Automatic die change reduces setup time and lead time.
The latest bending technology delivers cost-effective products.
【Size of workable board】
Width 3120mm, Height 220mm
【Maximum thickness】
Mild steel 3.2mm, SUS 2.0mm, Aluminum 4mm
04

Laser punching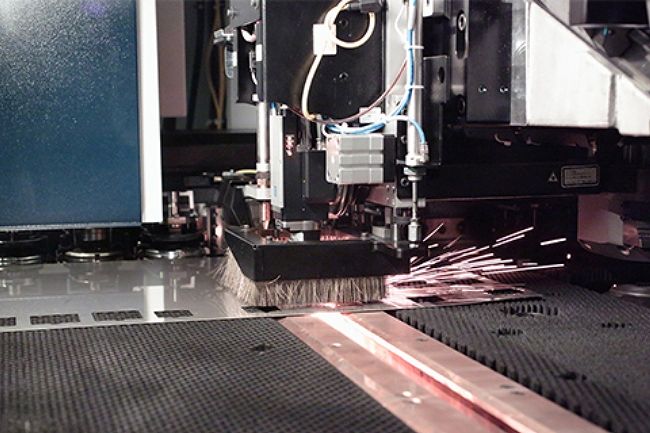 High-speed, high-precision laser processing
Various forming processes are possible
Cost reduction is realized by integrating laser and forming processes.
【Maximum thickness】
6.4 mm (laser processing)
FLOW 04
Special processing
We have a number of partner companies, mainly in Kashiwazaki, and can also perform special processing.
01

Grinding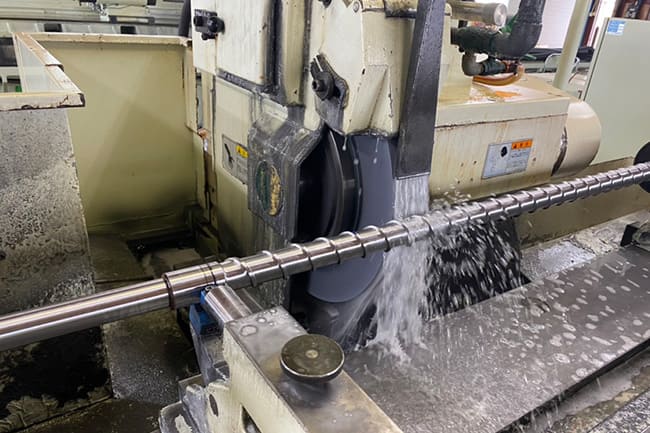 Cylindrical polishing of shafts (photo), buffing, electrolytic polishing, etc., in cooperation with partner companies.
02

Surface Treatment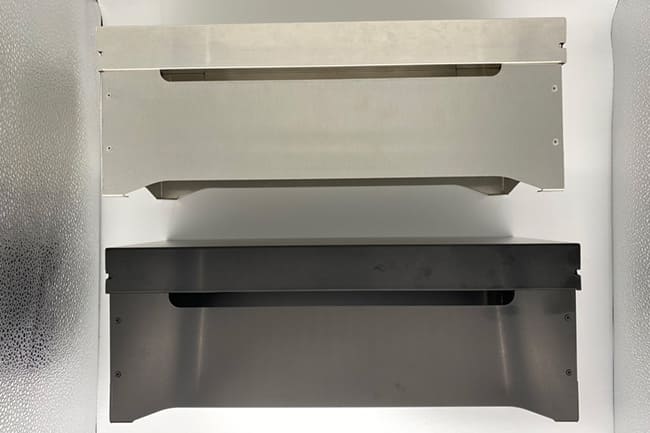 Painting of sheet metal fabricated products (photo), silk printing, and other collaborations with partner companies.
We will handle the wide range of start-to-finish production of products, including general industrial pumps from machining through assembly/inspection.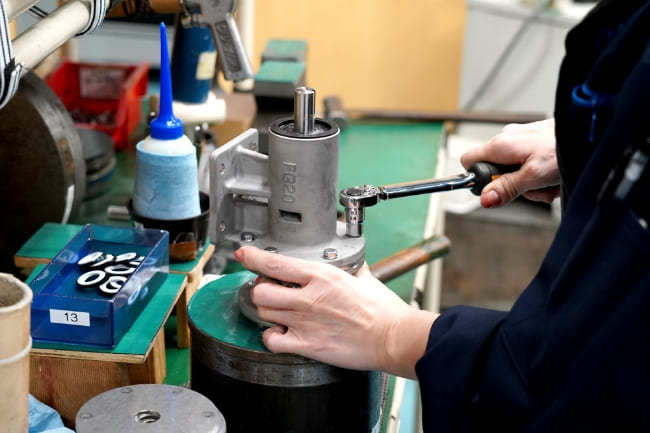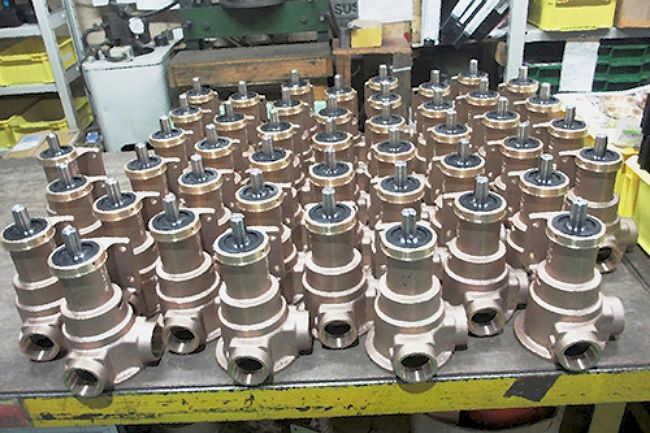 We aim to deliver 100% good products to our customers by conducting thorough inspections at each step of the process, from receiving materials to shipping inspections.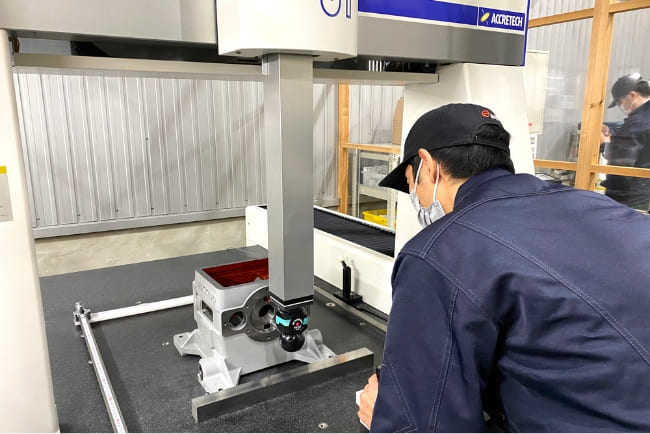 【Inspection details】
01

Receiving inspections

We perform dimensional measurements and appearance checks on castings, semi-processed products, and fully processed products. For products imported from overseas, we also conduct component analysis and microscopic observation of metallographic structure in cooperation with external institutions. We can also inspect materials supplied by customers, check passive film on stainless steel, and perform other inspections to meet your needs.
02

Process Inspections

In addition to dimensional measurement (self-inspection) during the machining process, we also perform full inspection using gauges. In particular, for inspection gauges, we not only use commercially available pin gauges and plug gauges, but also manufacture gauges and leak testers that are tailored to product applications, to ensure reliable inspections of mass-produced products.
03

Shipping Inspections

Final checks are performed by inspectors from our competency-controlled quality control department. All inspection results are data-controlled by serial number, so if you mention your order number, we can trace back not only dimensional data but also material mill sheets and measuring instruments used for the inspection.