REASON
Three reasons why people choose Iizuka Aichi sales office
Experiences

Aichi sales office representative has been involved in the asrispace and defense industry for many years, and has engaged in various improvement activities such as quality imprvement, cost reduction proposals, and productivity improvement, and has been highly evaluated by our customers.
Based on this experience, we fully utilize our accumulated know-how to respond to any situation make meaningful proposals to our clients.

Proposal

In the automotive, natural energy, environmental, and other fields, we provide our customers design, engineering, and procurement departments with useful proposals and information based on our understanding of their specifications and applications.

Proposals to reduce material costs, including procurement of materials form domestic and overseas sources and changes in materials
Proposals for weight reductions and cost reductions through shape changes, etc., based on an understandin of the current situation based on customer drawings, exhibits, and interviews.
Proposals for laser, silk, and other printing and engraving
Proposals for various surface treatments and plating, etc.

Quality and Environmental Certifications

Our factories have established a management system and PDCA cycle to produce safe, secure, and highly reliable products.

ISO 9001 certification, proof of quality management by international standards
Certification to JIS Q 9100 with additional special requirements for aerospace products
Obtaining, maintaining, and managing certification under Eco-Action 21, an environmental management system that reduces Co2 emissions and strengthens management foundations. SERVICE
Service
We will select the optimum materials, processing methods, and shapes to meet customer needs, leading to product cost reductions and productivity improvements.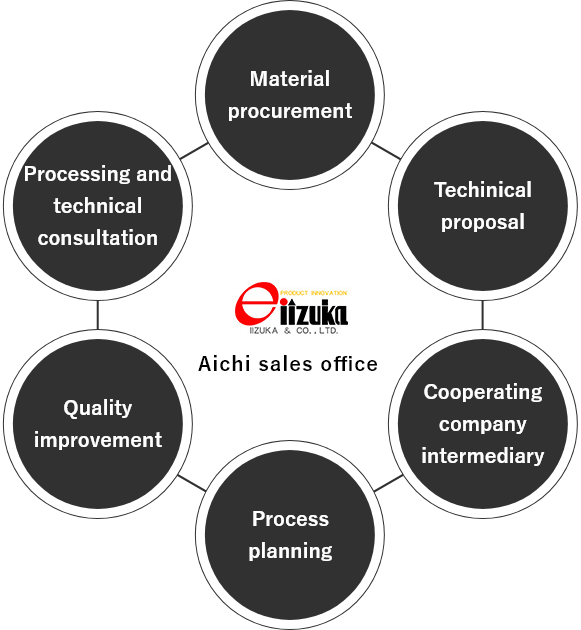 FLOW
Flow of transactions
Inquiry (sending drawings)
Please feel free to contact us first.
We will contact you by phone or e-mail with information and conditions based on your inquiry.
Meeting
If more detailed meetings are needed, we can conduct a web conference or visit your company.
Estimation
Propose the most suitable processing method for each customer from our own factory and partner companies
Order
If you are satisfied with the contents of the estimate, a contact will be signed
Machining
We will proceed with the PDCA cycle and collaborate with other factories to meet deadlines
Quality Inspection
The quality control department performs final checks on products
Packing
We will deliver to the date and location specified by the customer.
Thick plating support

※This photo is a sample.

Leave a message

Is it possible to tread the inner diameter of a large product with a plating film thickness of 0.25mm and finish the shape by grinding?

Research and vender selection

We selected a company that can handle large hard Cr plating and has a vertical internal/external diameter grinding machine, and investigated its facility capacity.
Since this was a large item, we selected a company that was capable of handling the work and with whom we could easily collaborate.

Production

Three companies, including our company, discussed the method of construction, order of construction, transportation, etc., and manufactured a prototype to confirm and evaluate the method and order of construction, making repeated fine adjustments.

Results

After the product was completed, we visited the client company to check the film thickness, shape,appearance, etc., and determined that the product was satisfactory, so we delivered it.
The customer commented, " Customer was very helpful because there was no company that could handle thick plating and shape processing. The customer thanked us for our service.

Specialty proposals

Leave a message

Soak a stainless steel product (SUS316L) in seawater or an existing waterway for a long period of time, any suggestions?

Research and vender selection

Although SUS316L has excellent corrosion resistance among stainless steels, we were asked to make a proposal because we reported that, depending on the operating environment, scratched and other defects may destroy part of the passivation film due to the chlorine component, resulting in localized corrosion.
We suggested changing the material to titanium, which has excellent corrosion resistance, but the response was that this was not possible due to the high cost of the material.
Therefore, we proposed a passivation treatment (passivate treatment) that can reinforce the oxide film on the surface of stainless steel materials (chromium)
In addition, due to the rising cost of stainless steel materials, we proposed a partial revision of the shape of the drawings that would significantly reduce material costs, as well as reduce weight and prevent scratched, both of which were adopted.

Results

In this project, we proposed quality and cost-conscious proposals, such as surface treatment on stainless steak products and material cost reduction, without changing to titanium material. We would like to receive further cost reduction proposals in the future.